The Capehart 500 Ultra-Luxury changer


Even though the country was in the middle of the Great Depression, Homer Capehart's sales strategy of providing the ultimate in entertainment to the well-heeled paid off.
From 1937 to 1942, the Capehart 500 line of models represented the most expensive standard-manufacture phonograph ever produced:
The Capehart 500 of impressive cabinet size, would not be dwarfed in the great hall of an East Coast or Hollywood mansion, and three separate amplifiers, and 12", 14" and 18" electrodynamic speakers provided the power to fill the largest space.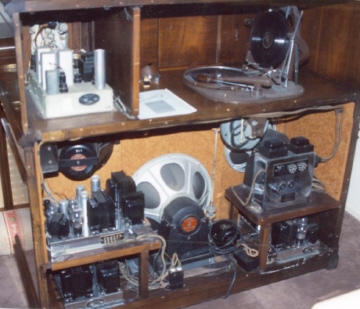 At a sales price for a "plain" 500 of $ 2,500, the additional remote function and custom installations could easily top $ 5,000.
For comparison, $5,000 in the late 30s could buy a very nice house in the major metropolitan areas.

Movie Sightings
1939 INTERMEZZO with Leslie Howard and Ingrid Bergman
This remake of the 1936 Swedish original features a gigantic Capehart 500 in Leslie Howard as Star Violinist Holger Brandt's home. His daughter is playing a record of "Intermezzo" (beautifully recorded by Toscha Seidel, available on a 10" Victor) repeatedly on this machine, and it rather poignant when at she turns around and says: "We will need a new copy. This one is worn out."

The Capehart 500 Empire Style

The more common cabinet style for the 500 model is the "French Renaissance" mahogany Empire style. Note the large louvered doors that cover the three large loudspeakers.




The Capehart 501 Spanish Style


Sold to the more rustic, mission-style homes on the West Coast, the 501 Oak Spanish Style cabinet features a more restrained use of decorative molding.


The Capehart 500 - The "Painted Gypsy Funeral Wagon"

This unique example of the Capehart 500 was recently saved, literally, from the wrecking ball.
Affectionately known to collectors on the East Coast as the "Gypsy Wagon", this extraordinary Capehart 500 was custom painted with rococo motifs, and all flat panels on the cabinet were covered with reverse-painted mirrors. Even the grille cloth was painted with bucolic scenes.







As always I am very interested in hearing from you.

Contact me at: sgimips1 "at" yahoo "dot" com

And thanks so much to the excellent electronic restorer Chuck, by whose gracious help I am able to publish these pages.

ALSO: After having my 1946 Capehart for 2 years, I feel like upgrading to a '48 model.

If you ever see a Capehart with a chrome tone arm and a silver head shell on Ebay or in a local antiques store, please send me an email. I will be eternally indebted to you.

---
Again my great thanks to Chuck for his great help in creating these pages. Pleases check out his other web pages with even more fascinating early audio and TV tube electronics. One level above this page, you can find more fascinating changers with video clips.

My thank also to Robert Baumbach who provided many pictures, and many other people that always helped with their advice and expertise to make these fascinating machines run again as reliably and beautifully as the day when they were bought.