The 1946 Capehart-Steinways

As documented by Gerald Schneider in the ARC Magazine, there is a fascinating small run of post-war Capehart 400s with cabinets designed by the Steinway & Sons piano manufacturer:

In 1946, Capehart had an impasse in their production of regular stock cabinets, so Steinway offered to Capehart the design and manufacture a small run of cabinets for the flagship 406N Deluxe Capehart.

The stark modernist design in black piano lacquer was done by Steinway's famous custom art case designer Eugene Ayuso. Steinway produced about 50 of these cabinets at a shocking cost of $ 400, shocking that is for Capehart, because a standard 406N would retail for about $ 1525 (minus 30% dealer margin).
Capehart soon got the necessary manufacturing capabilities up and running, and no longer had to rely on this expensive proposition.

The cabinet shown below is the only one of the Steinway Capeharts with a Japanese/ Chinese decorated finish. All others are in simple, high gloss black piano lacquer.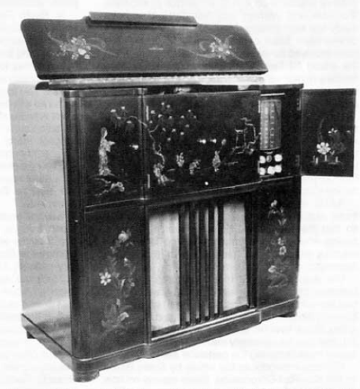 As always I am very interested to hear from you.

Contact me at: sgimips1 "at" yahoo "dot" com

And thanks so much to the excellent electronic restorer Chuck, by whose gracious help I am able to publish these pages.

ALSO: After having my 1946 Capehart for 2 years, I feel like upgrading to a '48 model.

If you ever see a Capehart with a chrome tone arm and a silver head shell on Ebay or in a local antiques store, please send me an email. I will be eternally indebted to you.

---
Again my great thanks to Chuck for his great help in creating these pages. Pleases check out his other web pages with even more fascinating early audio and TV tube electronics. One level above this page, you can find more fascinating changers with video clips.

My thank also to Robert Baumbach who provided many pictures, and many other people that always helped with their advice and expertise to make these fascinating machines run again as reliably and beautifully as the day when they were bought.